CHICHEN ITZA EXPRESS TOUR
Just 2 and a half hours from the beautiful tourist area of Cancun and Playa del Carmen, Chichen Itza is known as the capital of the Mayan empire, which since 2007 was declared one of the 7 new world wonders.
You will have the opportunity to appreciate the majestic Kukulcan pyramid, the "Pok-Ta-Pok" better known as the ball game, the observatory, the Temple of a thousand columns and much more, traveling in your wheelchair or scooter, guide that will make you know the wonderful past of Chichen Itza and the Mayan culture.
Optional activities:
Visit to "Ik-Kil", a beautiful cenote where your companions will be able to swim in its crystalline and refreshing waters.
Tour in the colonial city of Valladolid to appreciate the influence of Spain, as well as some shopping.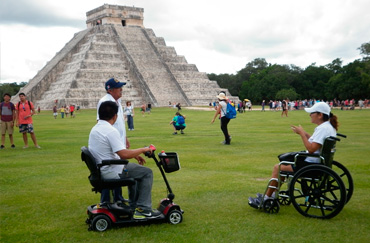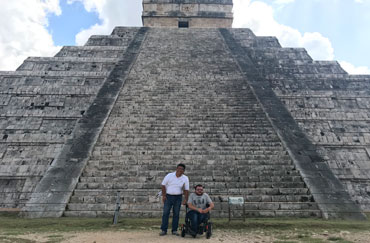 TOUR INCLUDES
Tour of 8 hours from the time agreed upon in your reservation. * Departure between 7 and 8 in the morning.
Private transportation and in an accessible vehicle with air conditioning
Entrance fees and professional guide in the archaeological zone of Chichen Itza
Buffet-style meal at the restaurant of the 5-star Hotel Mayaland. (Does not include drinks)
Bottles of purified water on board
Optional: Tour of the beautiful city of Valladolid +90 minutes (additional cost).
Optional: Visit to Ik-Kil +90 minutes (additional cost).
Optional: Scooter chair (electric cart) or electric chair * if you do not have your own (additional cost)
Tips for guide and driver not included (Optional)
RECOMMENDATIONS
It is recommended to leave at 7:00 a.m. to Chichén Itzá in order to avoid the hours of more overwhelmed by the sun and the large number of visitors within the area.
Due to the heat it would be more comfortable to wear fresh clothes and use sunscreen; also as a hat or cap.
Take swimsuit to swim in the cenote (for those who can go down to the cenote).
Carry cash if you want to make purchases or to reward (Tips) the driver for his work.