RENT A FLOATING BEACH CHAIR
FLOATING BEACH CHAIR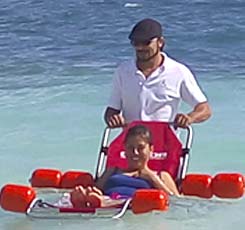 Delivery service to Hotels at Cancun, Puerto Morelos, Playa del CArmen, Puerto Aventuras, Tulum
We offer you the new and simpler way to enjoy the waters of the Mexican Caribbean, the floating beach Chair, with this new floating chair, anyone with limitations of mobility or disability, enjoy with ease and a lot of security of the beautiful beaches of Cancun , Playa del Carmen, Tulum, Puerto Morelos and the entire Riviera Maya.
Our Floating beach chair, besides having an easy size to transport, it requires the assistance of only one person for its handling, is very light and occupies reduced spaces. Ideal for people with limited mobility, elderly or disabled.
From: 01 to 210 pounds.
Includes
Rent, accessories, and tax
Easy to carry folding chairs
Delivery services
Important to know: All services of delivery and collection of our equipment, either for rent or sale, have an additional cost which varies according to the area where it takes place. This cost will be specified in your quotation.
RESERVATION TERMS
All reservations must be made by our request form or by e-mail.
In order to guarantee the service, it require the full payment. We will send you our two different payments forms (Credit card or PAYPAL).
All renting services: require a signed credit card Voucher in order to guarantee the equipment.
HOW IT WORKS?
We deliver the equipment to your hotel on your arrival day.
Quick explanation of how the equipment works.
If you have a problem, call the telephone numbers provided in your equipment receipt.
If you require more time with the equipment, you need to call and request in advance, and pay an extra cost.
We will pick up the equipment at your hotel, before your departure or at the time you prefer.
All guarantees will be returned once we have the equipment back and in good conditions.
FLOATING AMPHIBIOUS CHAIRS, A UNIQUE AQUATIC ADVETURE
If you travel to the beautiful beaches of Cancun and the Riviera, you cannot miss the incredible experience of floating in the blue waters of the Mexican Caribbean.
Renting a floating amphibious chair is not only a solution, it is one of the most exciting and satisfying experiences you can experience.